Create Incredible Domino Arrangments in Minutes With Our Amazingly Fun Domino Train!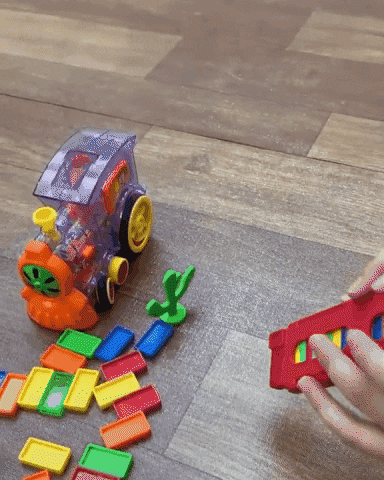 The age old game of dominos has been inspiring little minds for hundreds of years! The only thing is, having to reset up all those dominoes can take hours of your time...
Not anymore, with this incredible and super fun Domino Train Car Set, which places the dominoes for you. Sit back and watch in amazement as the domino train sets down each domino one after the the other, creating awesome arrangments in minutes!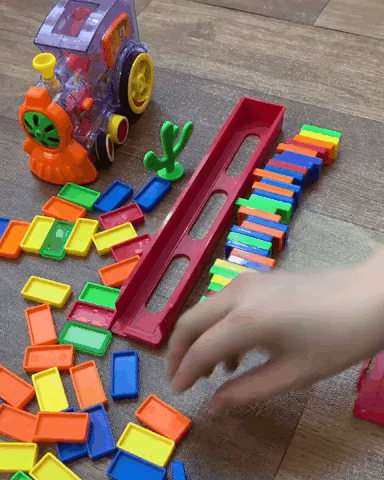 The Perfect Domino Setting Machine
The placed dominos are perfectly-spaced out & fall perfectly in a domino fashion when activated and the car is easily steered by turning the chimney left or right, making it easy to set up your perfect domino creations! 
All you have to do is fill up the loading clip, slide it into the train car and gently press the "on" button - see the tracks of colorful dominoes get placed automatically.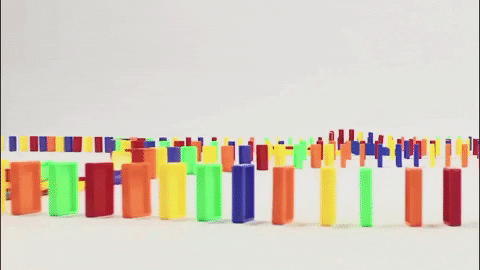 An Amazingly Fun Way to Learn
Your little one will love this educational new toy! The Domino Train set helps young minds learn about color recognition and develops their fine motor skills, coordination & problem solving.
The domino train makes it so much easier to set up dominoes, meaning your child will be able to focus on unleashing their creativity - thinking up new and extravagant domino creations and arrangments!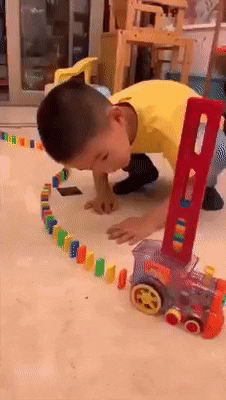 Kids Can't Get Enough Of the Domino Train!
Instructions
Makes a unique gift for: 
Birthday, Christmas, holidays or even "just cos"!
Press "Add to Cart" Now to Get Free Worldwide Shipping While Stocks Last!
Materials: High-Quality Non-Toxic Plastic
Pack Includes:
60/80 x Dominoes
1 x Domino Train
1 x Domino Clip
Batteries: 2 x Double A (not included)
Perfect for: Children 3-6
Delivery Time: 8-14 Business Days