Your Little Ones Will Fall in LOVE With Maths With Our Captivating Monkey Balance Game!


We all want our children to love the process of learning and developing their skills without needing to be forced to or bargained with. Even if you are able to convince your child to play more educational games, they may find themselves disengaged and this leads to both wasted time and unhappy results for both parent and child.
Although we often forget how difficult the basic skills such as counting, number recognition and simple equations used to be, for children just learning these skills it's very normal to be frustrated and confused by these topics. Over time, children may start to think of maths and numbers as "boring" or "difficult" and may lead to avoid learning these skills altogether. This may lead to further frustration and not being able to keep up with their peers or teachers in school.
Monkey Balance has taken all the important basics of mathematics and made them a fun and enchanting family game! The game builds all the basic skills of mathematics such as counting, addition and subtraction as well as the values of the different numerals with the use of adorable counting monkeys, numeral weights and equation cards.
Perfect for All Types of Learners
The use of the monkey scale makes it super easy for children to learn the values of each different number and the results of equations and is absolutely perfect for visual learners (learning through seeing) and kinesthetic learners (learning by physically doing). The game can also be an effective instrument for teaching auditory learners if an adult or older child is present to explain the results and equations.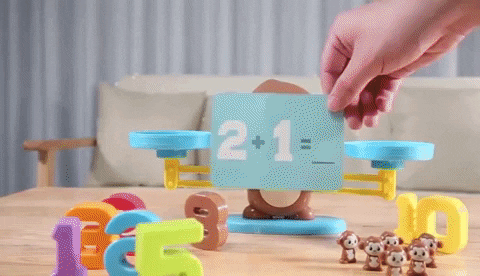 How to Play
Each counting monkey weighs 1 gram and the weighted numbers weighs the weighs the equivalent amount of the number that it is, for example, a "6" weighs 6 grams and will balance with 6 monkeys. You can use combinations of numbers and monkeys to count and add to well over 10. 
The rules of the game are simple: the first to win 5 cards wins the game. Each player draws a card randomly and must solve the problem on the card by placing the numbers or the monkeys correctly on the scales. If the player solves the question they get to keep the card. If not someone else can have a go. 
Monkey Balance can be played solo to develop maths and problem solving skills or with groups for cooperative learning and play.
Different levels to build the different skills
The cards that come with the Monkey Balance Game also have different levels to build the various skills required in mathematics:
Level 1: Green cards help to learn to identify numbers

Level 2: Purple cards help to learn counting

Level 3: Blue cards help to learn calculations like addition and subtraction
Perfect for: Boys and girls over the age of 3

Package includes:

30 x Double-Sided cards

19 x Counting Monkeys

10 x Weighted Numbers

1 x Monkey balance scale
Only Available Online 
Shipping time: 8-14 Business Day Free Worldwide Shipping