What better way to develop logical thinking & balance in children than by building with their own hands?

Toomi Balance Stones bring a modern and exciting design to the old building blocks that is sure to spark thousands of hours of creativity and fun for the whole family!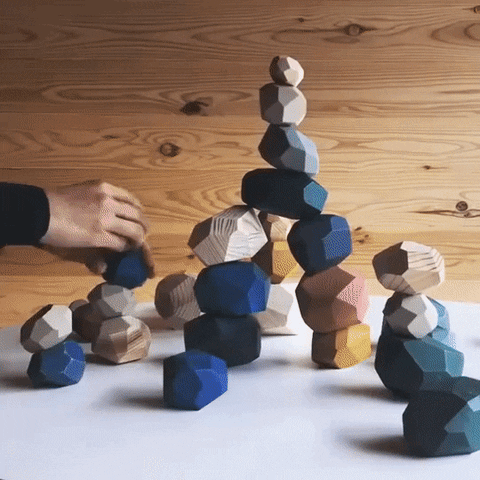 Dream Big and Build Big
The sky is the limit! Your little one can build their creations as high as they can imagine and helps them develop hand-eye coordination, concentration and confidence in their abilities.
Develop Creative Thinking and Problem Solving
The beautifully coloured stones are shaped differently and have different angles which help children understand concepts of mathematics, spatial awareness, colours, geometrical shapes and architectural design from an early age.
Learning Through Play
Children learn best through activities that they find engaging and exciting and our Balance Stones are an activity that children will find engaging again and again. It's never too early to start developing creativity and through playing with the Stones creativity can be endless inspired.
Creativity is incredibly important for success of children in school and later life and through offering activities that cultivate creativity your children will be able to develop this from an early age. 
A Wonderful Family Activity
Our Stones are entertaining for individual or group play and allows friends and families to enjoy the sense of achievement together. The Stones are a fantastic alternative to screen time and are a great way to spend time with family and loved ones.
Made of:  Beech wood and Water-Based Paint (Non-Toxic)
Perfect for: Kids (or Adults) 3 and Up
Stone dimensions (aprox):
L: 4.5 x 3.5cm / 1.8 x 1.4inch
M: 3.5 x 2.5cm / 1.4 x 1inch
S: 2.5 x 1.5 cm / 1 x  0.6inch
 Only Available Online 
Shipping time: 2-4 Week Free Worldwide Shipping