Keep Your Little Ones Engaged and Happy While They Learn with this Montessori Inspired Fishing Puzzle!

The Montessori Number & Letter Fishing Puzzle is a fantastic way to help your children develop their concentration, hand eye coordination and visual memory – all while having a great time doing so!
Montessori toys were specifically designed to be not only fun but also incredibly helpful in the development of children. Montessori toys teach problem solving and focus in the form of enjoyable play that children can spend hours participating in!
With that in mind, we have developed the perfect wooden puzzle board for your children. Especially in time of quarantine, no childcare and working from home, we understand that it can be difficult to keep your children busy and you may worry about the amount of screen time your children are currently watching. With the Montessori method, you can have peace of mind that your children are developing their spatial insight and having a blast doing it!
Learning Through Play
Montessori toys are specifically designed to be both engaging and enjoyable, while also assisting in the development of skills which improve school readiness and cognitive ability. The beautiful, bright blocks ensure that your child stays engaged and helps to develop visual memory and concentration, as well of the use of the fishing rod improves hand-eye coordination and the fine motor skills of the hands and upper body.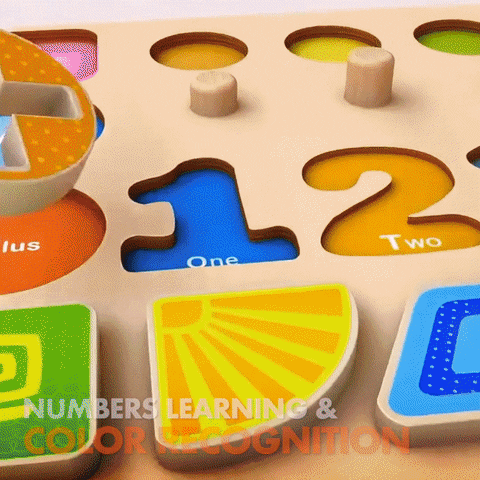 Creative and Clever Kids
This puzzle also trains your children's logical thinking ability, number and letter recognition, reasoning, one-to-one counting skills and problem-solving ability. Working on these skills is incredibly important for your children's confidence and ability to excel in school and later life.
The puzzle also encourages critical and creative thinking with the many ways in can be used and helps your child to bring out their inner genius! It's also ideal for kids with autism, ADD and ADHD.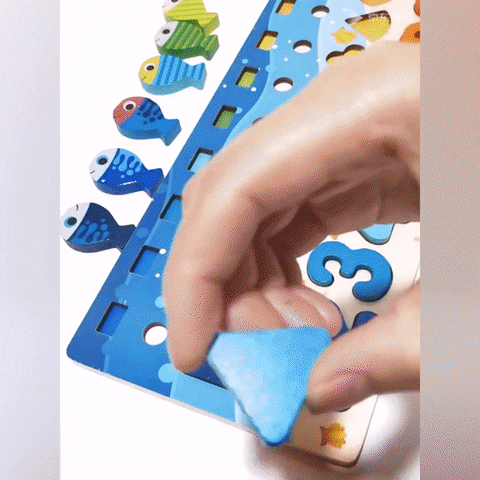 Perfect for Preschools
The Montessori Fishing Puzzle is a fantastic teaching aid for pre-school aged children in the classroom or in the home. The puzzle provides endless developmental fun with activities like sorting the rings in colours, counting the pieces, stacking blocks, doing maths puzzles with the family or fishing of course!
Beautifully Made & 100% Kid Safe
All pieces are cut from natural wood, sanded smooth and vibrantly coloured with environmentally friendly water-based paint. Non-toxic, no phthalates or heavy metal and completely lead-free.
A Wonderful Gift For Children
The Montessori fishing puzzle is loved by both boys and girls from ages 1 and up. It's a great learning resource for kinder and primary school as it introduces children to numbers and letters as well as the skills to use and recognise them confidently. You can gift this incredible present to your own child, niece, nephew, grandchild or student whether it's as a birthday present, for Christmas or any other holiday.
Made of: 100% Natural Wood & Water-Based Paint (Non-Toxic)
Perfect for: Boys and girls over the age of 1
Approved ASTM and CE testing. Made of 100% Real Wood, Non-Toxic, Environment-friendly, Safe for Kids. Meets all specifications of European (EN-71) and American (ASTM) Toy Safety Standards.
Only Available Online 
Shipping time: 8-14 Business Day Free Worldwide Shipping