Tummy Time Doesn't Have to Feel Traumatic!
Turn Tummy Time into a Fun and Simple Under the Sea Adventure!

How the TummyTime Water Pad Helps Your Baby Develop:
✅ Develop and strengthen neck, back, arm and chest muscles in preparation for holding their head up, rolling over, for crawling and for getting in and out of sitting.
✅ improve vision through the engaging and bright colors as well as fine motor skills as they reach for the little critters inside the pad.
✅ Provides very important sensory development to cheeks, chin, mouth, arms and hands, while having a soft surface to rub against and prevent injury or distress.
✅ Strengthens abdominal and chest muscles, allowing deeper breathing and better air exchange in the lungs, reducing the chance of breathing difficulty later in life.
✅ Stimulates the inner ear and balance mechanisms, allowing your child to develop balance which assists in learning skills throughout life.
Order today to try

Risk-Free

for 30 days and if your baby doesn't LOVE their new TummyTime Play Pad we'll happily return your money, no questions asked - and you can even keep the pad!
Our TummyTime Water Pad turns the difficult challenge of tummy time into an exciting under-the-sea adventure that supports and encourages your little ones body and allows them to play freely and develop the muscles of the neck, head, shoulders as well as their fine and gross motor skills.
The TummyTime Water Pad also helps prevent the flattening of the head (plagiocephaly) that many babies experience due to not spending enough time on their tummy.

Your little one will LOVE the hours of splish-splashing fun they spend learning and developing with our TummyTime water pad!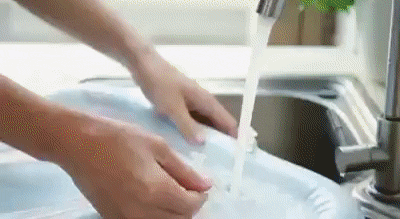 Easy-as to Assemble
Built to be super simple to set up, you don't need an MIT degree to start enjoying adventures under the sea! Just inflate the outer ring and fill the interior part with water! That's it. Now all you have to is gently place your baby on the splash mat and watch his or her eyes spark up with excitement.
Durable and Certified
Unlike all those cheaply-made Water Pads which are leaky, smell horrible and don't last more than a few uses, our Water Pad is completely leak-proof, made of heavy duty, non-toxic and eco-friendly PCV. Plus it's sturdy enough to last for a great deal of loving and can stand the test of time even as your little one grows.
How to use it:
Open the biggest valve first and fill the mat with tap water.

Then, open the small valve and inflate with air the frame of the Mat.

When not in use, the water can be drained and the mat can be folded.
Tips on how to use
Use for at least 15 minutes per day to get best results with helping your baby's development

Remember the ABCs of Tummy Time:
- Always supervise
- Be creative and use your TummyTime water pad
- Create daily opportunities for tummy time everyday

Start with small sessions, even 10-30 seconds spread throughout the day and eventually work up to a few minutes and longer

Tummy time is most effective when your baby is happy and alert. It becomes more difficult when they are hungry or sleepy

Ensure that you empty the water out of Your TummyTime Play Pad weekly and wipe down after each use in order to ensure good hygiene and longevity of your pad
Makes a Perfect Gift For: 
Baby Shower, birthday, Christmas, Holidays or "just cos"
Made of: Heavy duty, Leak-Free and Non-Toxic PCV
Perfect for: Boys and Girls over the age of 2 months or when they can start lifting their head up
 Only Available Online 
Shipping time: 8-14 Business Day Free Worldwide Shipping